now and into the future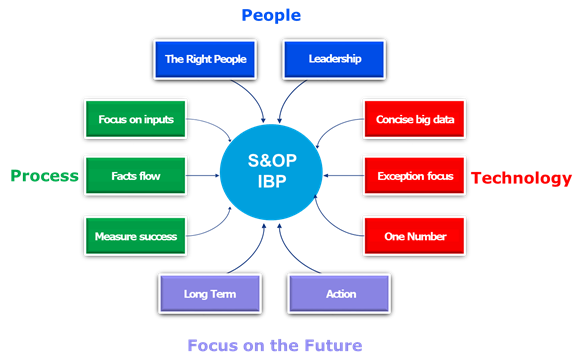 We can help you master the future. We are the experts in process redesign that is necessary to develop a vibrant S&OP culture.
Sales and Operational Planning (S&OP) done well transforms a business. It enables a business to identify issues in the future and design solution today to maximise profit and customer satisfaction.

Mature S&OP is process driven with meetings calendars, agendas and agreed treatment of data. It is about collaboration, alignment and action. We can assist you to develop mature S&OP.

S&OP done well lowers inventory, reduces operation costs on warehouseing and transportation. It reduces out of stock situation and lost sales opportunities. It cuts wastages and lowers capital requirements. It increases profit margins, market share and inventoruy turns. It improves the effectiveness of promotions and new product launch. It delivers better customer service and improves the productivity of resources.

In todays rapidly changing supply chains a vibrant S&OP promotes collaboration across the entire supply chaind. Ihelps your business be more agile to met the rapidly changing requirements of todays supply chains.

S&OP is more that just Sales planning. It is planning for the all of the business. It ensures that all departments work off the one set of numbers to promote alignment between strategy and execution.

We identify the "as is" situation and help our clients to build the "to be" situation and we provide the roadmap to get there. We do more than just help our clients define the S&OP process. We establish the roles and responsibilities, the meeting calendar, the agenda, the prerequisites, the deliverables and much more.

We drive change management. We help our customers to build the right team and the right skills. We provide training and coaching. We help our customers to look into the future with confidence.

Do you want a more agile 21st Century supply chain? Talk to us.